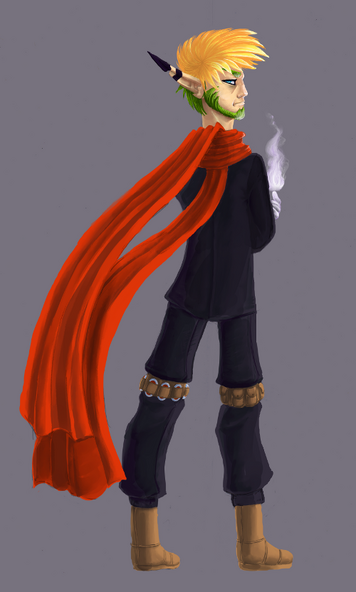 Basic Info
Edit
Name: Luke Morpheus Hirigani
Alias: Smartass // Morpheus // (Commander) Zeta
Age: 48 cyles
Species: Oniyan // Platinian
Wielder Type: Dual
Aura Art Type: Neutral
Essence Trigger: Scarf
A bitter, brooding man, Luke Hirigani is the founder and leader of the Rebels, a subfaction of the Hunters. Though he appears incredibly angry a good portion of the time, he does have a soft spot for the people he cares for. Being the ex-right hand of Naginata himself, Luke has seen and (unfortunately) remembers all that Corruption has done to Ambrosia. Nowadays he finds himself fighting the inner Parasite within him, going as far as forcing himself into a coma and fighting with himself over whether or not he should allow his children to live on the grounds that they may be tainted.
Personality
Edit
Usually minged off but calm. Stares at something hard if he especially hates it. Lazy; plays video games competitively online. Usually straightforward, but very sarcastic. Bit of a geek-- he loves computer/internet related humor, though the most that someone would get out of him is a light chuckle. Very irritable.
- Videogaming
- Coffee
- Relaxing
- His authority
- Chocolate
- Ice cream
- His scarf
- His weapons
- Rachel (his wife)
- Xenon Naginata
- The Corruption
- Feeling threatened
- Campers
- Trick shooters
- Tryhards
- When his Network Gaming pass expires
- Extreme weather (he's a moron-- he lives in a desert)
- Someone else damaging his scarf
- Whining/Complaining
- Jon Welkov
- The Executioners
- Criminals
- Being called old/ancient/pops/codger
Appearance
Edit
Incredibly tall (6'8"); lanky ; yellow/lime green hair ; slender, icy blue eyes ; fangs ; usually frowning. Usually wears his long, red scarf, gently spiked hair, dark grey/red suit with double-breasted jacket. Casually wears his scarf (still) and turtle necks-- he wants to hide the slashes on his neck.
Weapons, Abilities, Weaknesses
Edit
Being trained by Destiny, Luke has developed amazing offensive skills in the form of gun slinging and swift kicks.
Aura (Teal)
Teal fire [Breathing (when he's especially angry), creating with hands/feet, projecting through scarf]
Modified Sticky Bombs
Napalm, Shock, Ice, Quicksilver, etc.
Valor and Justice (Twin gold/platinum handguns)
Twin shot [Can use Laser, Aura, and Regular ammunition.]
AbilitiesEdit
Defy Gravity [Can walk on walls/ceilings-- left over from Corruption]
Super speed
Eagle Vision
Counter shot [If shot at, Luke can block the bullets with his own]
Can withstand Dark Matter (Gas state of Venom) for a slightly longer period than normal.
WeaknessesEdit
Corruption [Venom, corrupted weaponry, Nests, etc.]
Stabs
His defense is pretty bad, but he tries to make up for it with his speed.
Ice Essence (Luke hates super cold areas.)
Earth Essence
Sound Essence
Background Story
Edit
Luke was a pudgy, average joe working as an IT technician for a company in Central Auron. He was bullied day after day by his childhood rival, Jonathan Welkov, and ended up falling in love with Welkov's girlfriend, Rachel Starr. After being abducted by Guardians, Luke takes on a more collected, somewhat sensual persona, a sign that he was brainwashed by Xenon Naginata. He took part in an attack on his own job, fleeing back to Oniyex with his master and his partner in crime, Gale Naginata. After cycles of mindlessly spreading the "love" of his Father, Luke snaps out of his trance when he comes in contact with an innocent boy, the young Terry Livingston. It was the news of Terry's fate that drove Luke to break himself, Gale, and the youngling out of the Corruption. Not long after that, the Rebels were founded with the help of Dr. Rolaeko Menguishi, who was also leading a group to combat the Corruption.
- Luke's addiction to gaming is a nod to videogaming culture; he plays a spin-off of Call of Duty.
- A lot of Luke's anger revolving around video games is a reference to the Author's brother's stories of when he played games online.